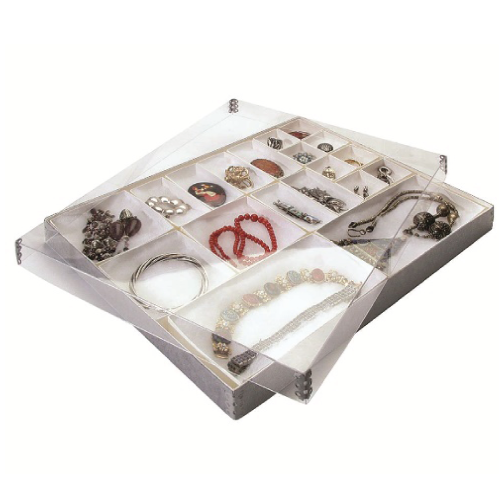 This artifact specimen storage system provides you with the configuration which best suits the storage requirements of your particular collection.
241 x 318 x 25mm metal edged carrier tray 1.5mm buffered blue/grey board.
All specimen trays are constructed of white, unbuffered, 2-ply, 100% rag board fastened on the corners by an acid-free paper tape with a stable heat seal acrylic adhesive;
The system is ideal for storing items similar in character but varying in size. Jewellery, medals, badges, small fossils, shells, shells and almost any collection of miniatures can benefit from this neat and orderly storage system.
 Various dimensions available:
Artifact Specimen Tray 160 x80 x23mm
Artifact Specimen Tray 80 x 80 x 23mm
Artifact Specimen Tray 40 x 80 x 23mm
Artifact Specimen Tray 40 x 40 x 23mm