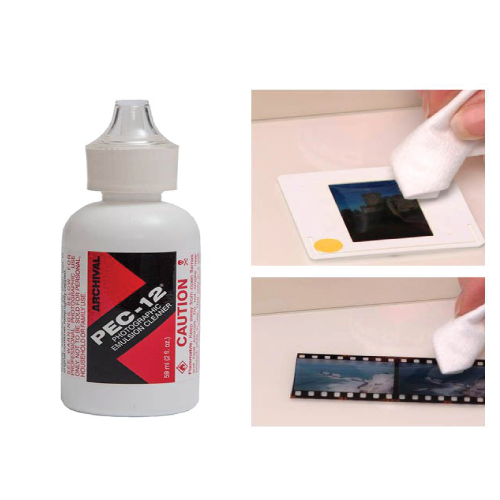 Photographic Emulsion Cleaner - PEC 12 + PADs
PEC-12 is a non-water based film and print cleaner which removes virtually all non-water based stains from colour and B&W slides, negatives and prints.
Removes grease pencil, adhesive residue, finger oils, ball-point pen, fungus, smoke & soot damage, laser separation oil and most permanent inks.
Containing no water, PEC-12 dries instantly with no emulsion swelling and leaves no residue.
PEC-12 is best used with PEC*PADS ultra soft cleaning wipes.
PEC PADs are extremely strong, lint-free and so soft and pure (99.999%) it is almost impossible to scratch an emulsion with them.
PEC*PADs are so soft they can be safely used to clean all types of sensitive surfaces: scanners, CD's, mirrors, lenses, telescopes etc.