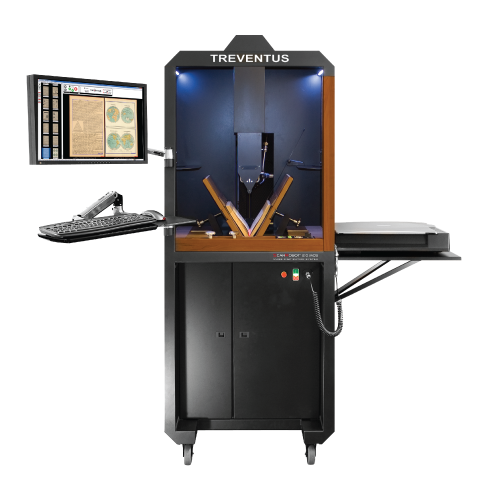 ADVANTAGES - scanning modes
 Automatic scanning
    fast and gentle up to 2,500 pages / hour
 Semi-automatic scanning
    for most gentle scanning of fragile books
 Manual scanning
    covers, spine, fold outs,...
ADVANTAGES - mechanical unit
60° book cradle opening angle (no overstretching!)
Wooden book cradle for most gentle book handling
No clamps or glass plate needed to flatten the pages
Robust and simple design - developed for 24/7 operation
ADVANTAGES - capturing unit
One central capturing unit with equal and constant distance to the left and right book page
Constant illumination over the whole page
Independent from ambient light
Constant scan quality and resolution from the first to the last page of a book
ADVANTAGES - scanning quality
Absolutely distortion free scanning up to the book fold due to the patented prism technology
No perspective distortions
No curvature effects
No artefacts in the images
ADVANTAGES - system attributes
Integrated system: only 1 PC necessary
Built in air-compressor for easy cleaning
Self standing unit on wheels for easy relocating
Collects dust from books into a filter that can be easily taken out for cleaning and replacement
SPECIFICATIONS
Speed
up to 2,500 pages/hour* (automatic mode)
up to 1,000 pages/hour* (semi-automatic mode)
Page turning
automatic with process monitoring (double sheet control) or semi-automatic and manual
Aperture angle   
60 degrees (steplessly adjustable between 60° and 100°)
Lightning            
user- and book-friendly LED lightning
(without any IR, UV or heat radiation)
Resolution          
constant and independent of the page format
optical 300 dpi (included)
optical 400 dpi (optional)
Colour depth &

 

Image types 
36-bit, colour, greyscale, b&w
Storage formats

 

(can be saved simultaneously)  
jpg, jpg2000, tiff, tiff G4, png, gif, bmp, pdf (incl. OCR layer), XML, DjVu
Page format

 

(scanning area)       
minimum (2 times): 5 x 5 cm (1.97 x 1.97 in)
maximum (2 times): 32 x 32 cm (12.6 x 12.6 in)
Book size

 

(maximum)
35.5 x 34.0 cm (13.98 x 13.39 in)
Book thickness   
up to 15 cm (5.91 in)
Paper thickness
no restrictions
(recommended spectrum: 40 g/m² to 260 g/m²)
Paper quality       
all pages, also acid damaged and wavy pages from the 14th century up to now
Covers   
all covers (soft and rigid)
Dimensions   
l/w/h (without monitor): 0,78 x 0,78 x 1,90 m (30.7 x 30.7 x 74.8 in)     
* The page speed can vary depending on paper quality, book size and book condition.