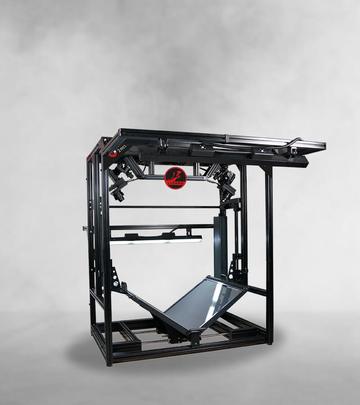 LIZARD V SHAPE BOOK SCANNER
The book2net Lizard is the professional solution for the safe scanning of collections in the A1 to A6 format that can only be digitized with a limited opening angle.
• Double X71 camera system
• Variable scan areas: A1 – A6
• Physical resolution: 400 – 2400 dpi
• Adjustable book support angle: 80°, 90°, 100°, 110°, 120° (optional)
• Book spine width up to 10 cm (optional 20 cm)
• Book spine depth compensation up to 8 cm
• Flexible camera position
• Flexible scanning angle
• LED light angle adjustable
• Storable presetting of the calibration settings
• Manually controlled glass plate / book table / cameras / lighting
• 0.3 sec. scanning time (2 x A2 color @ 400 dpi)
• 3.5 sec. processing time (scanning + imaging + storage)
V-SHAPE PLANETARY BOOK SCANNER WITH ADJUSTABLE OPENING ANGLES AND ILLUMINATION
With individually adjustable camera positions, adjustable book support angles and precise manual control, the book2net Lizard is the ideal solution for a flexible, efficient and at the same time safe digitization of fragile book stocks.