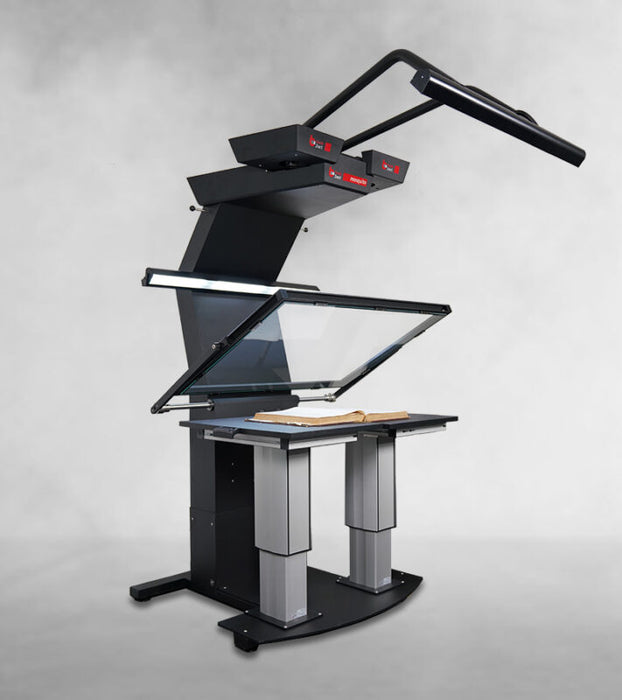 The  book2net Mosquito A1 is a high-performance semirobotic scanner designed for high-volume large-format book scanning projects. Equipped with a double X71 camera system, it provides both the highest image sharpness and most gentle treatment of the originals.
• Double X71 camera system
• Selectable options: 400 dpi / 600 dpi
• 0.3 sec. scanning time (A1 color@ 400 dpi)
• 3.5 sec. processing time (scanning + imaging + storage)
• Depth of field 12 cm
• Height adjustment up to 25 cm (40 cm optional)
• Book spine width up to 25 cm
• Double profile lifting columns for precise height adjustment
• Load capacity up to 180 kg per column
• USB 3.0 interface
THE PLANETARY BOOK SCANNER FOR THE TOUGHEST TASKS: THE OPTIMUM FOR A1 FORMATS!
Thanks to the parallel use of two high-resolution area sensors in combination with high-quality lenses , the Mosquito A1 semirobotic achieves unrivaled quality </ strong> among the A1 book scanners. The use of our innovative matrix sensor technology guarantees the highest quality of your scan results over the long time with extreme depth of field and the option for multishot and cascading.
Dual matrix sensor technology for the highest quality: As a high-performance book scanner, the Mosquito A1 semirobotic is specially designed for use in the mass digitization of large-format, unwieldy or particularly heavy documents such as magazine volumes and at the same time guarantees the highest level of gentle handling. < / p>
Industrial precision components and standards guarantee longevity and sustainability and enable smooth, even guidance and adjustment of all moving elements. In this way, the book cradle, glass pressure and the conservational LED lighting system can be precisely adjusted to the most varied of formats and template structures in seconds.
This supports the smooth workflow and ensures a high user-friendliness . With a scan speed of 0.3 seconds and a process time of 3.5 seconds (scan + transfer + save!) The Mosquito achieves incomparable productivity. Pressure level is adjustable.
The opening angle can also be adjusted depending on the book size in order to optimize the scanning process.